Harris Homestead House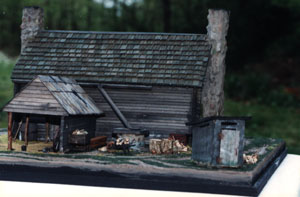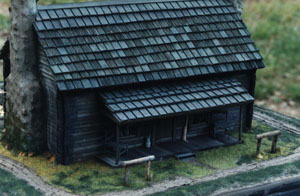 This replica of the log cabin that Joseph H. "FreeJoe" Harris lived and died in on July 15, 1875 was built by Fayette County, Tennessee artist, Simon Jackson Jr. The Interior of the house contains the following:
A bed.
Table and Chairs.
Night Stands.
Wood Box.
Two fireplaces complete with mantles.
Window curtains, hand made.
The Exterior of the house contains the following:
A roof made of wooden shingles.
2 chairs on the front porch.
Broom on the front porch.
2 horse hitching rails in the front yard.
Tool shed in the rear of the house.
Woodpiles with cut wood, stumps, wood box, slug hammer, ax and wood barrel.
Cistern with a downspout from the house with a lid and water bucket.
Piles of lumber and bricks.
Horse shoes, chains, handsaw, shovel, rake, etc.
An outhouse with accessories.
All Materials are authentic.